A Guide to Women's Swimwear
With summer 2021 quickly approaching, many individuals find themselves making beach plans. This is the perfect summer activity as it allows you to go out and see your peers while maintaining social distancing guidelines! However, going to the beach also means purchasing a swimsuit! Modern women's swimwear comes in many styles, which can often be daunting when shopping. If you're having trouble finding your ideal swimsuit, keep reading this blog to find the best guide to women's swimwear!
Swimsuit Tops
Bandeau
Bandeaus are similar to tube tops and are made of a single piece of fabric. It is made to wrap comfortably around your chest. Some bandeaus even provide an underwire for those with a larger bust. This style is perfect for people with rectangle or pear body shapes!
One Shoulder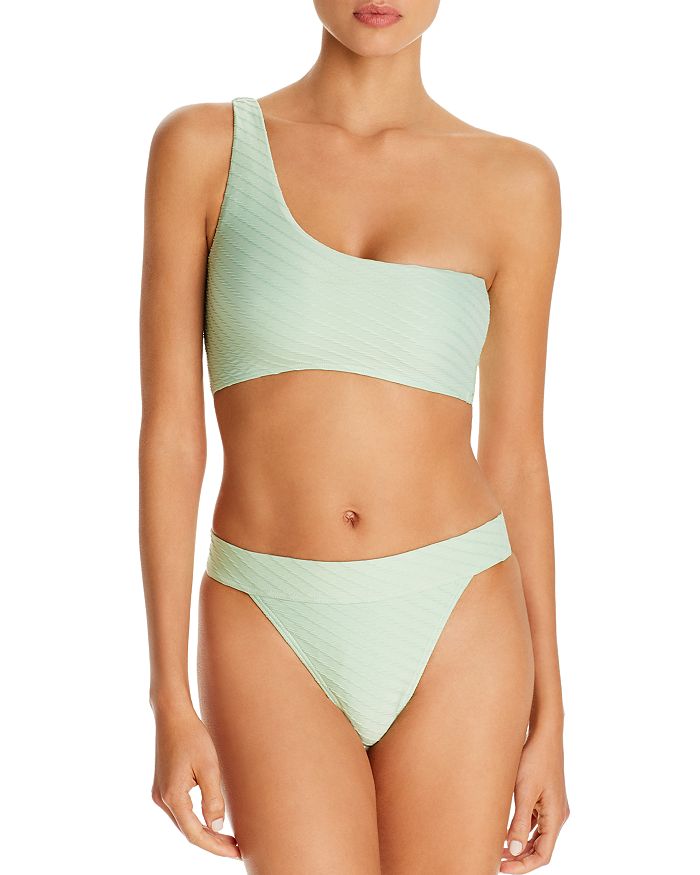 The One Shoulder style adds some spice to regular bikinis with its asymmetrical shape. It has a similar comfort to the bandeau but provides more support. Its unique style also draws attention to the upper body. This style is most flattering on pear shaped bodies!
Halter

Halter tops wrap around the neck with either a tie or a clasp. They come in various cuts and styles but are always great for breast support. They also offer more coverage than many tops. This style is perfect for people with hourglass and apple body shapes!
Triangle
The triangle bikini top is made from two pieces of triangle-shaped fabric to cover the breasts. This style is a classic when it comes to bikinis, and is also typically revealing. This style is flattering on most body types and can be commonly found in stores!
Underwire
Underwire bikinis can look like any bikini style, but come with an underwire. This offers the maximum amount of support and often provides a push up for your breasts. These can also typically be found in any cup size. 
Tankini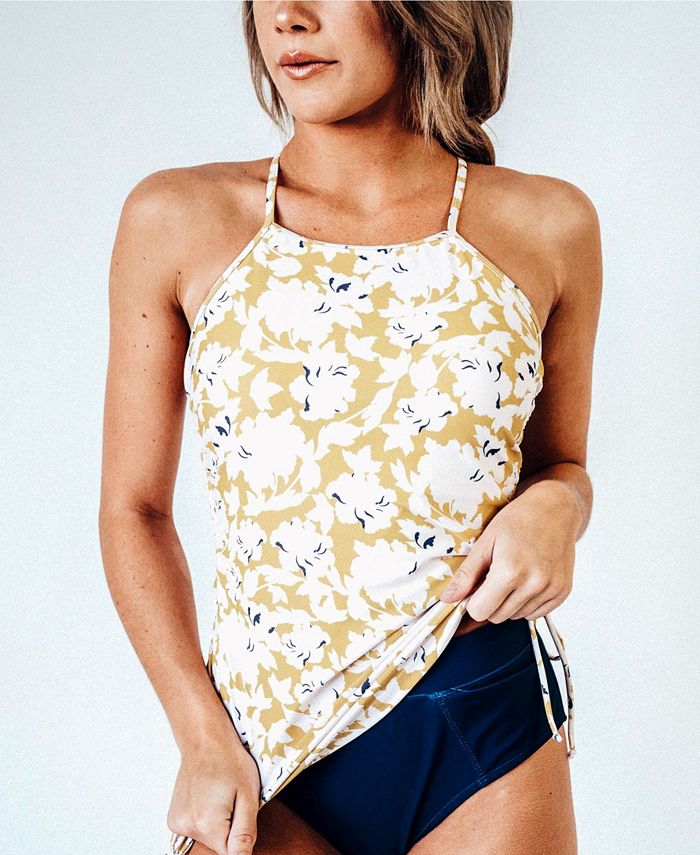 The tankini is a mix between a traditional bikini top and a one piece. They come in different lengths and styles, but typically either extend to your bikini bottoms or are cropped. These are perfect for anyone who doesn't want to show as much skin, but wants the flexibility of a two piece swimsuit.
Rash guard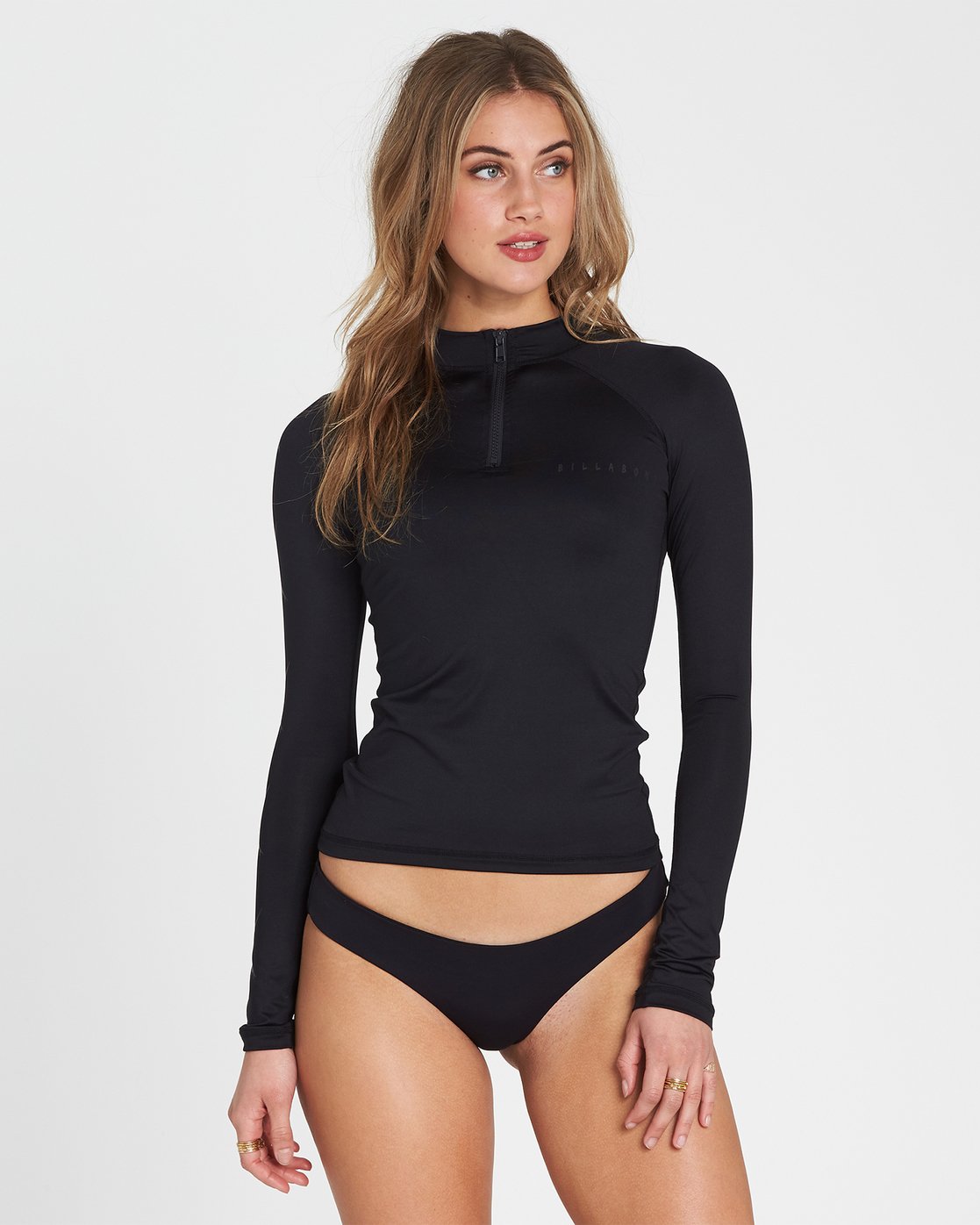 Rash guards are commonly used for water-based sports such as paddle boarding, kayaking, and surfing. They feature long sleeves in order to protect their wearer from the sun. these can be worn by any body type!
Swimsuit Bottoms
High Waist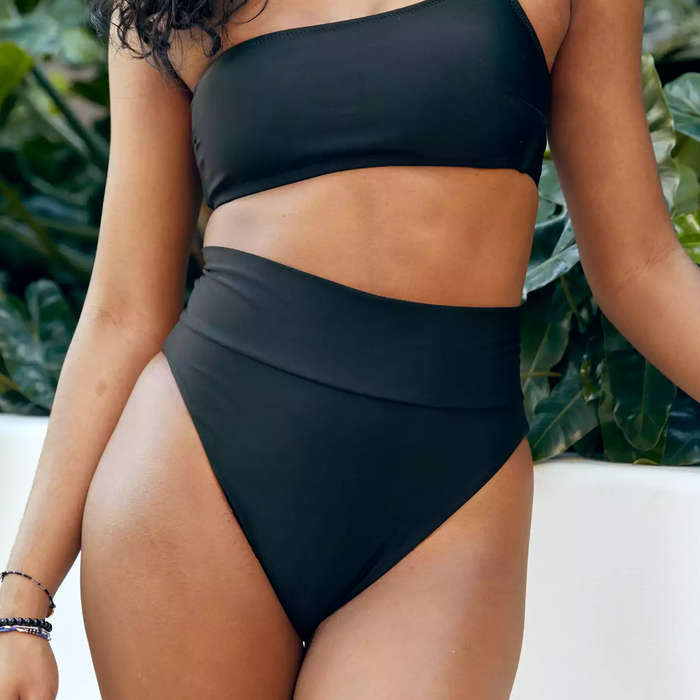 These swimsuit bottoms are higher up on your abdomen and typically cover your belly button or higher. It can hold in your shape and accentuates the smallest part of your waist. This style suits most body types, especially hourglass and apple shapes.
High Cut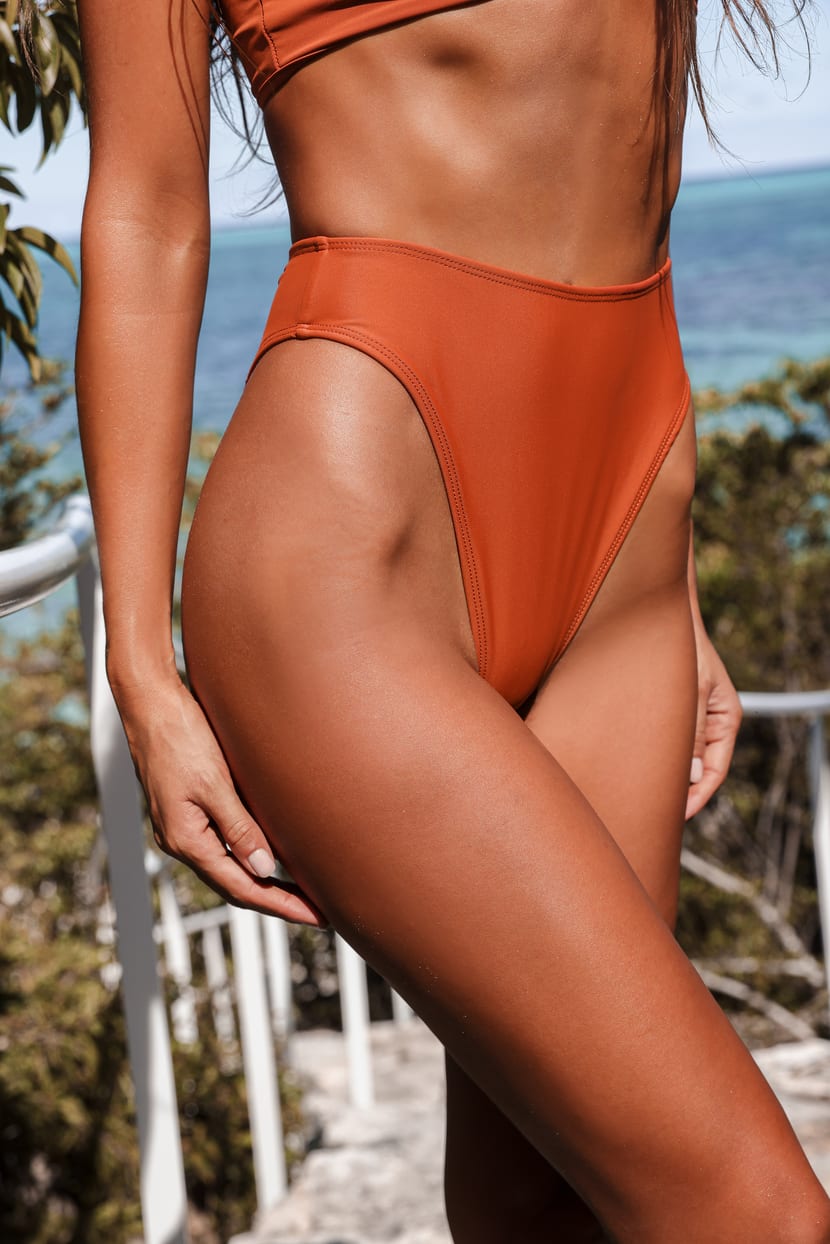 High cut bottoms are similar to high waist bottoms but are slightly different. The high cut sits on your hip bones. This gives the illusion on elongated legs. The high cut style is especially flattering on petite figures. 
Skirt
The skirt bottom, also known as the "skirtini" contains extra fabric to create a skirt style. This fabric is usually shorter than your typical skirt, but they are often offered in a variety of lengths. This style is perfect for anyone who wants to show less skin, particularly in their butt and leg areas.
Hipster
Hipster swimsuit bottoms feature a wide band that goes around your hips. They provide more backside coverage than your average bikini bottom, but also comes in a scoop design that shows more skin. These are perfect for people with hourglass, inverted triangle, and rectangle body types.
Boyshorts
Boy shorts are shaped similar to regular shorts, but are shorter and more form-fitting. They come in different waist heights, but typically cut off around the upper thigh. These provide more coverage than regular bikini bottoms and are perfect for water-related sports. They are perfect for anyone with a rectangular body shape.
Classic Briefs
The classic briefs are similar to shorts and provide lots of coverage on the backside. They are perfect for anyone who wants to show less skin and fit all body shapes. Their simplicity can be paired with any bikini top!
Cheeky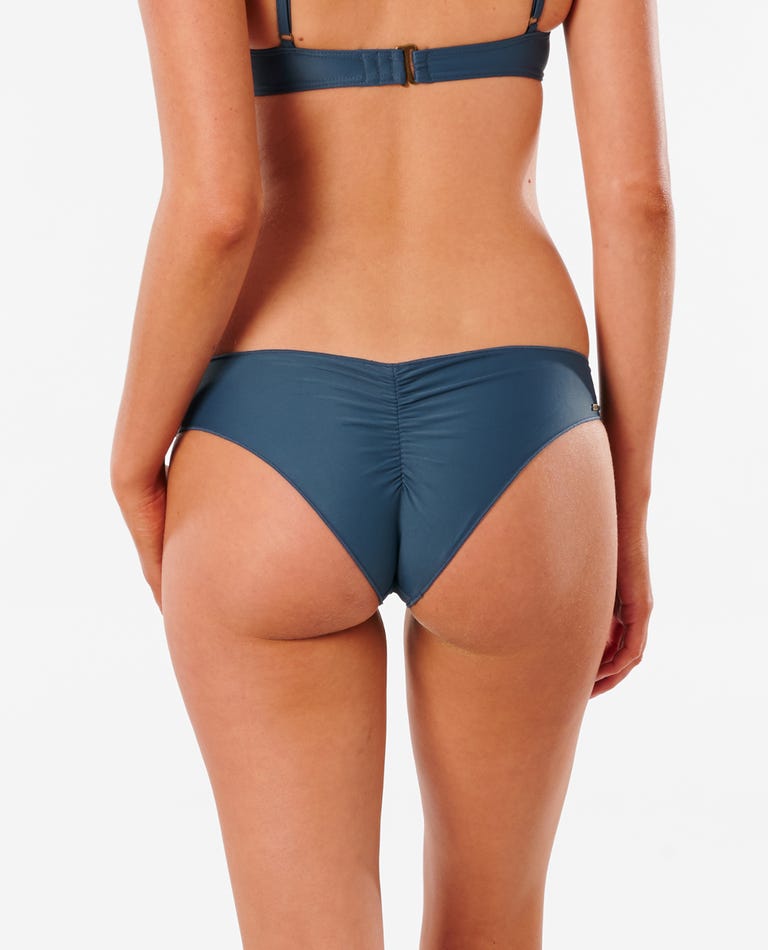 These bikini bottoms are similar in cut and shape to hipster bottoms, but reveal a bit more skin. They are perfect for elongating your legs and showing off your backside. This makes it perfect for people with petite body shapes!
Thong
The thong, also known as the "Brazilian style bottom" is made up of a narrow piece of fabric to cover your backside. It is extremely revealing which makes it perfect for anyone who wants to show off their bottom or avoid tan lines!
One Pieces
Classic One Piece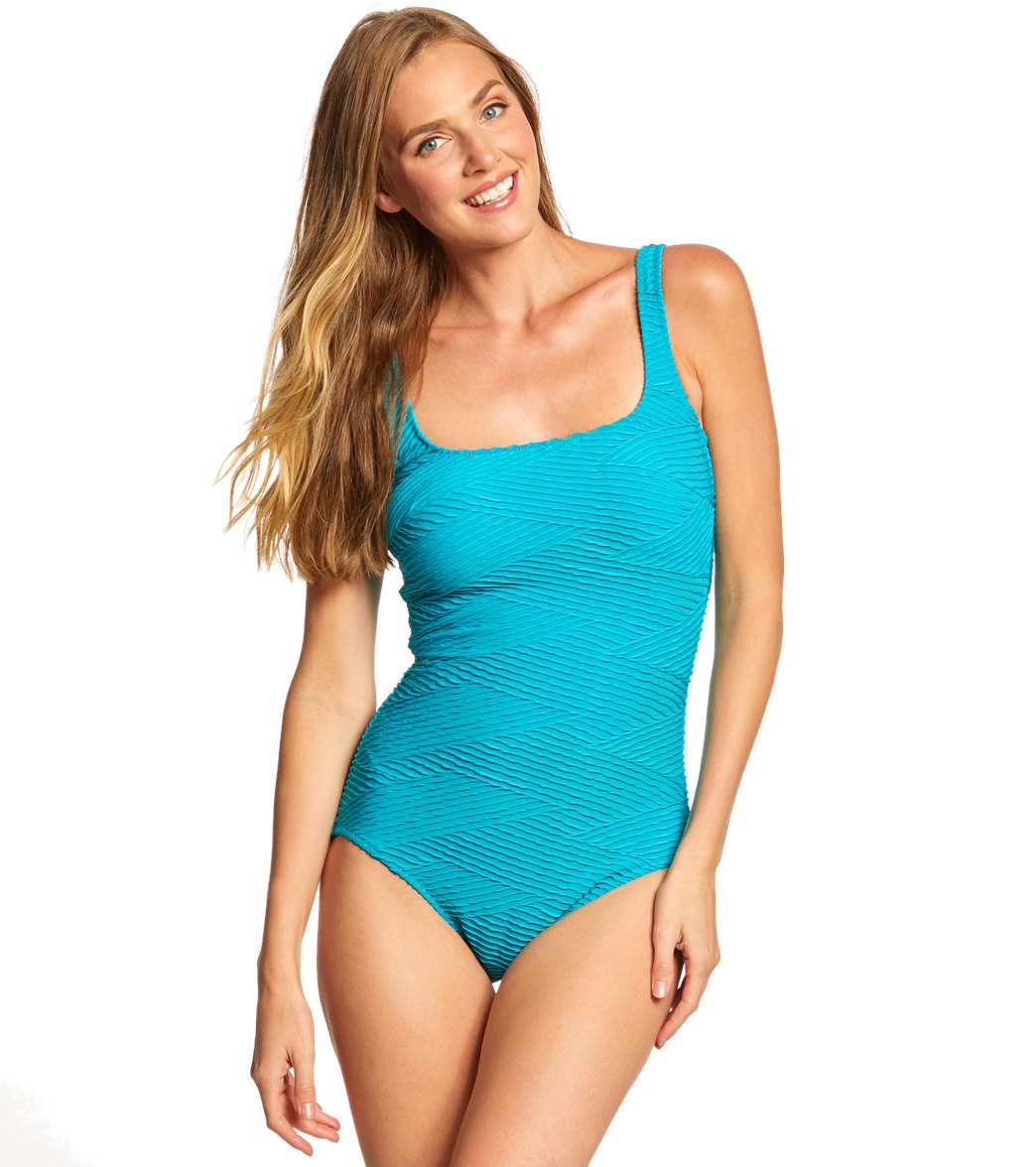 The classic one piece is a typical swimsuit that covers the entire midsection and features two straps for support. These are often referred to as a "sports suit". They fit all body types and are ideal for people who swim competitively or just want to show less skin!
One Shoulder
The one shoulder offers a unique take on your usual one piece. The look of asymmetry allows people to focus on the upper body area. This type of swimsuit is especially flattering on pear body shapes!
Skirted
Skirted one pieces are like regular one pieces, except they feature an extra layer of fabric to create a skirt. They are ideal for people who want more coverage in the butt, thigh, and stomach areas. It also gives off the illusion of symmetry on inverted triangle figures!
Bandeau
The bandeau is similar to a regular one piece, but is strapless. This allows people to show off their shoulders while still covering their torso and backside. Although it is flattering on all body types, it is best suited for rectangle and pear body shapes who don't need a lot of breast support.
Cut Out
The cut out is a fun take on your regular one piece. It has a similar shape to the classic one piece but features eye-catching cut-outs! It comes in many different styles, allowing you to choose from different cuts and how revealing it is. Some cut-outs also feature mesh or net in the cuts for added coverage.
Click here to start shopping!